EXPECTATIONS
With the film already running in theatres and each of the songs been out one after another, you are pretty much aware about what the music of Total Dhamaal has to offer. Gourov-Roshin are the composers for this soundtrack that is quite snazzy with just four songs in there.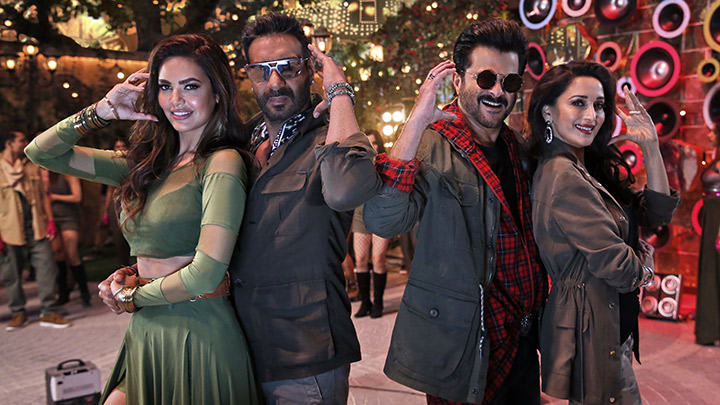 MUSIC
It is a retro beginning for Total Dhamaal as Laxmikant-Pyaarelal, Anand Bakshi and Kishore Kumar's 'Paisa Yeh Paisa' is recreated by Gourov-Roshin and lyricist Kunwar Juneja. The good part about this recreation is that the core essence of the song has been kept intact right from the 'mukhda' to the 'antara'. While Dev Negi and Subhro Ganguly do well to keep the playful element on, it is Arpita Chakraborty's vocals in the 'antara' portions that really elevate the song further. A good number to hear and enjoy all over again.
The next track to follow is a recreation too with Gourov-Roshin and Kunwar Juneja putting together Rajesh Roshan and Usha Mangeshkar's 'Mungda'. With Gourov Dasgupta bringing on rap into the song which has been picturised on Sonakshi Sinha, this one actually turns out to be a fast paced entertaining hear that works well even four decades after the original from Inkaar was heard first. Though the song has been slammed by a few, it actually turns out to be a good effort by Jyotica Tangri who is supported well by Shaan and Subhro Ganguly.
The song which actually turns out to be the best of the lot is the original number 'Speaker Phat Jaaye' that has been written by Kumaar. It is surprising that this one was not the first to be promoted as it actually has a good rhythm to it which places it well as a party anthem. Harrdy Sandhu takes the lead in this club track while being supported by Abuzar Akhtar. As for Aditi Singh Sharma and Jonita Gandhi, they chip in well too hence ensuring that there is no dull moment in there. Play this on in loop and you would be hooked for sure.
Last to arrive is the 'Theme song', the sound of which has been heard in the promo of the film. Yet again, it would have actually helped had a music video been created around it and promoted as this one too is fast paced that goes with the film's theme. This one too has a lot of energy to it which is in line with the spirit of the film. Dev Negi takes centre-stage for this song which arrives briefly in the film's narrative and does make its presence felt.
OVERALL
The music of Total Dhamaal fits in quite well with the mood and spirit of the film. Moreover, with audiences appreciating the film, there is further recall on the cards for the music that would only make it further popular. This one is a mood booster.
OUR PICK(S)
'Speaker Phat Jaaye', 'Paisa Yeh Paisa', 'Mungda'